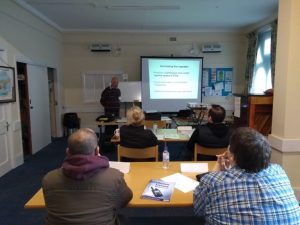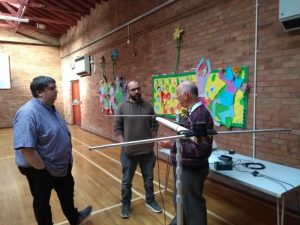 Prior to the pandemic, LEFARS provided classroom-based training for the foundation and
intermediate exams. Our club venue, All Saint's Church Hall, provided a classroom and an
examination hall.
By January 2020 we had hosted our 43 rd Foundation course and exam and our last
Intermediate course and exam took place in March 2020. LEFARS also provided the exam conditions
for sitting the Advanced exam.
Since the RSGB waived the practical assessment for radio exams many people have passed their
foundation licence through self-study and online exams and we welcome the growing ranks to the
hobby, along with those who have advanced to an intermediate or full-license through online exams
in 2020. Self-training is very much in the spirit of amateur radio after all!
Amateur radio is a broad and varied hobby, and membership of a club brings a lot of shared
knowledge and experience. In lieu of club nights and field days offering different activities, we will be
providing a series of videos on the practical aspects of amateur radio in the coming months, along
with opportunities to ask our members and instructors questions.
In this way, we hope LEFARS will help those new and experienced in radio to discover more beyond the books.
As the world opens up again we are looking to run practical sessions, such as homebrew antenna
construction, and our varied field day programme provides a wealth of experience. If there is any
aspect of amateur radio you would like to see happen, please get in touch with LEFARS Exam Secretary, David Priest on 07850 120180 or at training@lefars.org.uk
---
Exam Registration Fees…
2020 RSGB Exam Registration Fees:
Foundation Licence – £27.50
Intermediate Licence – £32.50
Advanced Licence – £37.50

The Exam costs are set by the RSGB and are included as part of the cost for LEFARS training courses, they may vary from time to time.
Who to Contact…
If you would like to be informed when the next LEFARS Foundation Licence course with exam is being run, or book an Intermediate or Advanced Licence exam in the future, or if you would simply like more information on any of the above topics, please contact the LEFARS Exam Secretary, David Priest on 07850 120180 or at training@lefars.org.uk.
---

Essential Reading…
From 1st September 2019, the new Syllabus 2019 is being used for training. Further information here.
Click here to take you to the RSGB website to purchase the latest Syllabus 2019 training booklets and/or check corrections, updates and additional information. Or use the links below to order directly from RSGB online shop:
| | | |
| --- | --- | --- |
| Foundation | Intermediate | Full (Advanced) |
| | | |
♦  The Foundation Licence Manual for Radio Amateurs
♦  The Intermediate Licence Manual for Radio Amateurs
♦  The Full Licence Manual for Radio Amateurs

During the COVID-19 lockdown, it is possible to take all of the exams with remote invigilation. Practical assessments are not required. Further details here.
Online exams and training – RSGB web pages, Student Information section, revised. Click here to view.
The Foundation, Intermediate and Full examinations can be booked online here.
The RSGB remotely-invigilated exam FAQ's can be downloaded from here.
We also highly recommended:
    ♦  Exam Secrets for Radio Amateurs (Syllabus 2019 Edition)

---
Further Reading…
The latest version of the Combined Syllabus Specification is available:
♦  Radio Amateur Examination Specification
Training resources and further information are available on the RSGB website including :
♦  Overview of Foundation Licence
♦  Student information – all levels
♦  Mock exam papers