Introduction
LEFARS participated in this year's Airfields on the Air event, using Special Event call GB2STA, over the weekend of  1st / 2nd April, re-visiting a field in Abridge used for last year's activation and within the ATZ of Stapleford Aerodrome (ICAO: EGSC).
Staplefield Aerodrome is the largest commercial flying school in the UK, complete with an advanced Flight Simulator. Operating as RAF Stapleford Tawney during WWII, the grass runways were used by several squadrons during the summer months and from March 1940 as a satellite station to North Weald.  Stapleford's wartime role ended in 1945, with the last personnel leaving before VE Day. Further details here.
Friday 31st March 2023
Setting up started at 15:00 to collect the equipment and operating caravan from the LEFARS store. The rain started but the trailer was loaded and myself, John G0VEH, Richard G4DDP and David M0VID  arrived at the entrance to the site at 16:00.  The ground was very soft. With cars left parked in the road, David M0VID towed the caravan and trailer on site. The shelter was later setup alongside the operating caravan.
Kerry M6WHT was onsite at 16:50, he was camping over the whole weekend. However, his wheels spun on the wet grass by the gate entrance, turning into a quagmire; he was pulled to a higher spot. Pawel 2E0TGH parked in the road.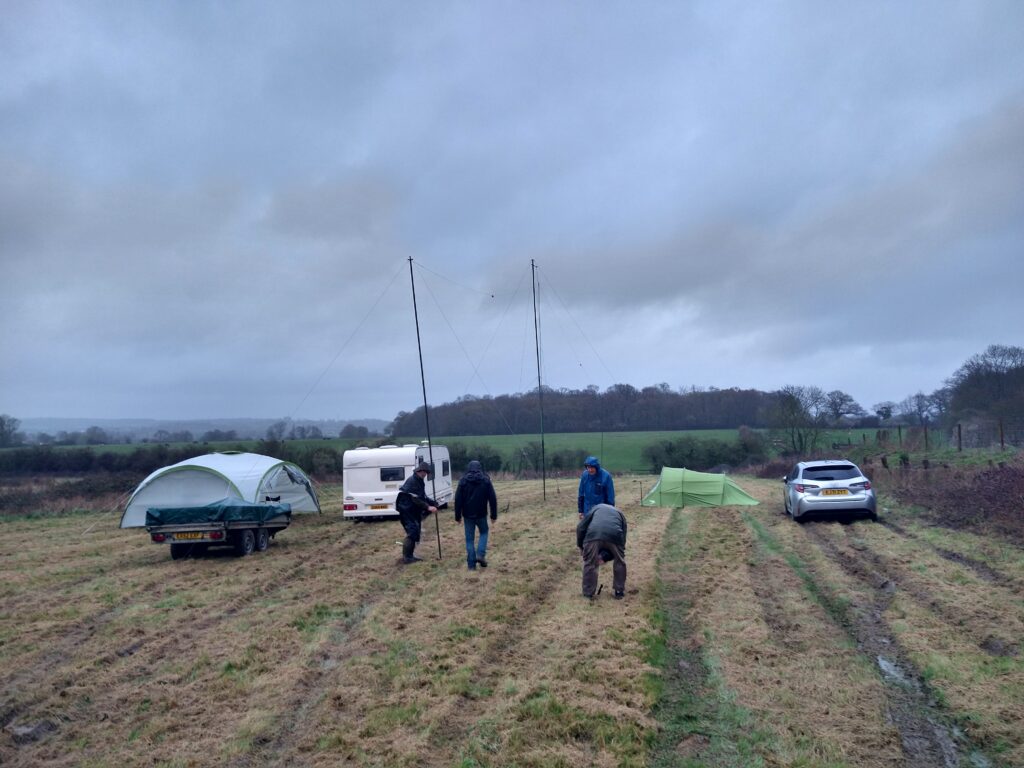 The shelter was up by 16:45 followed at 18:10 by the 80m/40m trapped dipole on a 12m mast, It had been raining for most of the time but we were dry inside the caravan.  A cup of tea and a chat ensued at 19:25. I joined the LEFARS Zoom meeting at 20:00 and left at 21:00 with Kerry in charge of site security, the 2m mast and antenna to be erected next morning.
Saturday 1st April 2022
Richard G4DDP and I arrived on site, parking in the road, around  09:10. Kerry M6WHT had a good night in his snug tent although his tent was surrounded by soggy grass. The rain had stopped overnight but leaving the field very wet. With the generator powered up, Richard started to operate on 40m. Later, with the help of Selim M0XTA, the X300 VHF/UHF antenna was erected on a 4m mast for 2m.  The club Icom IC-7300 was used for HF, the IC-7000 for 2m FM.
The Shelter housed the catering table and club canteen (although not used) and several tables for items from a local Abridge amateur, Harold Garland (SK) G0NFJ, that David M0VID was unable to bring along to the Table Top sale at the last club meeting.  The table legs were sinking into the mud!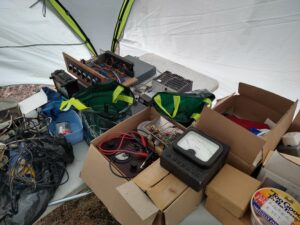 However, Pavel 2E0TGH operated /P with his own callsign inside the shelter and worked several stations on 10m including one from Brazil.
With the challenging field conditions, activity was mainly in the operating caravan. Hot drinks were available and Ion M0JLI brought along two bags of freshly baked doughnuts from Lidl.  They didn't last too long.  Brian M0OAB also had cake to accompany the afternoon tea break.
Operators on 2m FM included John G8DZH, Selim M0XTA, Kerry M6WHT and Ron G6LTT. Selim M0XTA made over 150 QSOs on 40m SSB during the afternoon in a 4 hour session. The other HF operators were Richard G4DDP and John G0VEH.  2m operation continued in the evening including QSOs with a few LEFARS members.
There were several LEFARS members visiting on Saturday including: Ron G6LTT and Karen, Chris G8OCV, George M1GEO, Dave M0TAZ, James 2E0JBU, Ion M0JLI, Brian M0OAB and Boo M6OAB.
Also onsite was David M0VID. By 16:45 most of the visitors had departed for the evening. I stayed, cooking an evening meal and continued working a few more 2m stations. I left Kerry M6WHT in charge departing at 20:25.
Sunday 2nd April 2022
I arrived at 09:05, the site was still a quagmire. Temperature around 7C but dry. With the generator started, an opportunity to listen to the GB2RS news and provide a report for newsreader Dave M0MBD and followed by several 2m QSOs. John G0VEH arrived at 09:55 and continued to work several stations on 40m SSB during the day. John G1DJI visited during the morning, Dave M0MBD arrived at 12:35 followed at 13:40 with Dave M0TAZ and a departing John G1DJI. Although muddy, the sun was shining and temperature up to a balmy 12C.
David M0VID arrived on site at 14:10, preceded by Brian M0OAB for recovery services. We started to pack up at 14:20, the last 40m QSO was at 14:26 local time.
Visitors on Sunday included:   John G1DJI, Dave M0TAZ, Dave M0MBD, Brian M0OAB and Boo M6OAB.
We started to pack up at 14:20, leaving Abridge at 18:00. Although the surplus rainwater had mostly drained, the field was still a quagmire.  Those members monitoring the LEFARS WhatsApp and Facebook groups were entertained with videos of stuck vehicles being pulled off the field by the LEFARS recovery service (Brian M0OAB). Kerry M6WHT was the first to be extricated from the mire, then David M0VID towing the operating caravan (see videos further down).
The shelter was packed up by 16:00 but it took a while longer to get off the field.  The trailer was slowly winched off the field by David M0VID  with long lengths of tow rope (photos/videos below). We left the field by 18:00 to return to the stores.
GB2STA log and station summary from Richard G4DDP
LEFARS operated on 2m FM and 40m SSB.
Icom IC-7300 HF on 40m, 100w
Antenna 40m/80m trap dipole at 10m favouring north – south
Icom IC-7000 VHF on 2m, 50w
Antenna X300 colinear at 4m
Some info on GB2STA operation over the weekend:
HF           297 contacts on 40m SSB.  (173 on Saturday, 124 on Sunday)
VHF          25 contacts 2m
Total       322 contacts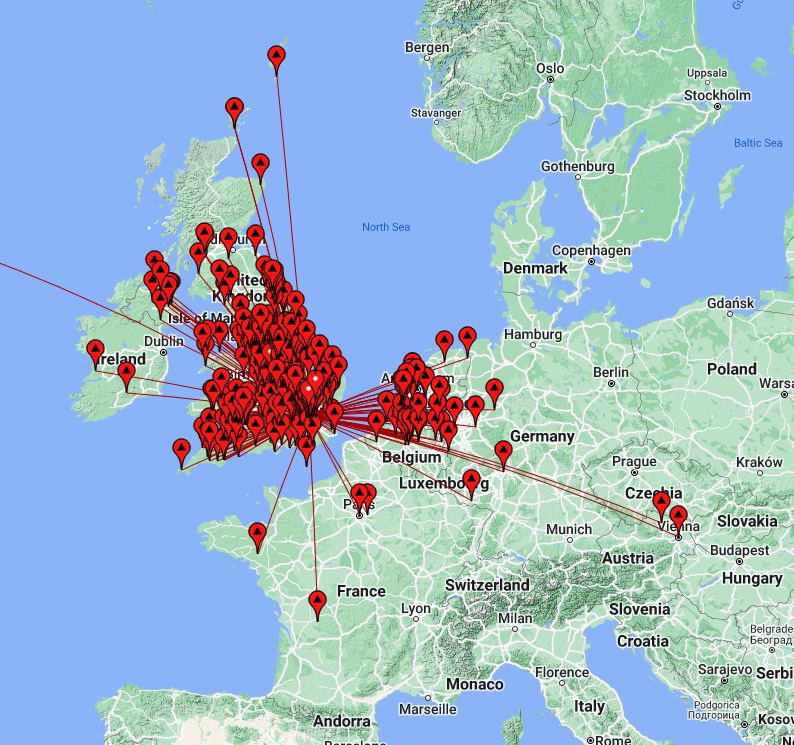 We were able to work across the whole of the UK and into Europe. Conditions were quite good on HF despite the earlier solar flare which threatened to disrupt HF conditions.
The following Airfields / AOTA stations were contacted:
GB0WAO        Willingale
GB2CC         Coastal Command at RAF Eastbury Park
GB0CAF        RAF Chickerell
GB4GCT        RAF Greenham Common
GB0WZL        RAF Westernzoyland
GB1HA Headcorn
GB0DM         Downham Market
GB5RAF        Beccles
GX7RAF        RAF Luton
GB2AAF        Andrewsfield
GB2FA         RAF Holbeach, Fenland Airfield
M0ZMS/P       RAF Wittering
Some thoughts from John G0VEH
Weather wise all has been said except perhaps the old hippo song

Mud, mud glorious mud
Nothing quite like it for cooling the blood
So let us all follow down to the hollow
Cool the blood and wallow.

Radio conditions very good and 40m very busy. The caravan worked very well and we could not have operated without it. Thanks to

Pawel Frankowski 2E0TGH for his help on Friday afternoon.
Selim M0XTA for his marathon 4-hour operating working pile ups with 150 QSOs.
Dave Cutts, M0TAZ, Dave De-la-Haye, M0MBD for their help in packing up.
Brian M0OAB for his efforts to extricate vehicles etc from the field.

Although these were extraordinary weather conditions and tested all on site nonetheless it was enjoyable.

73

John G0VEH
Mud-related photos and videos ….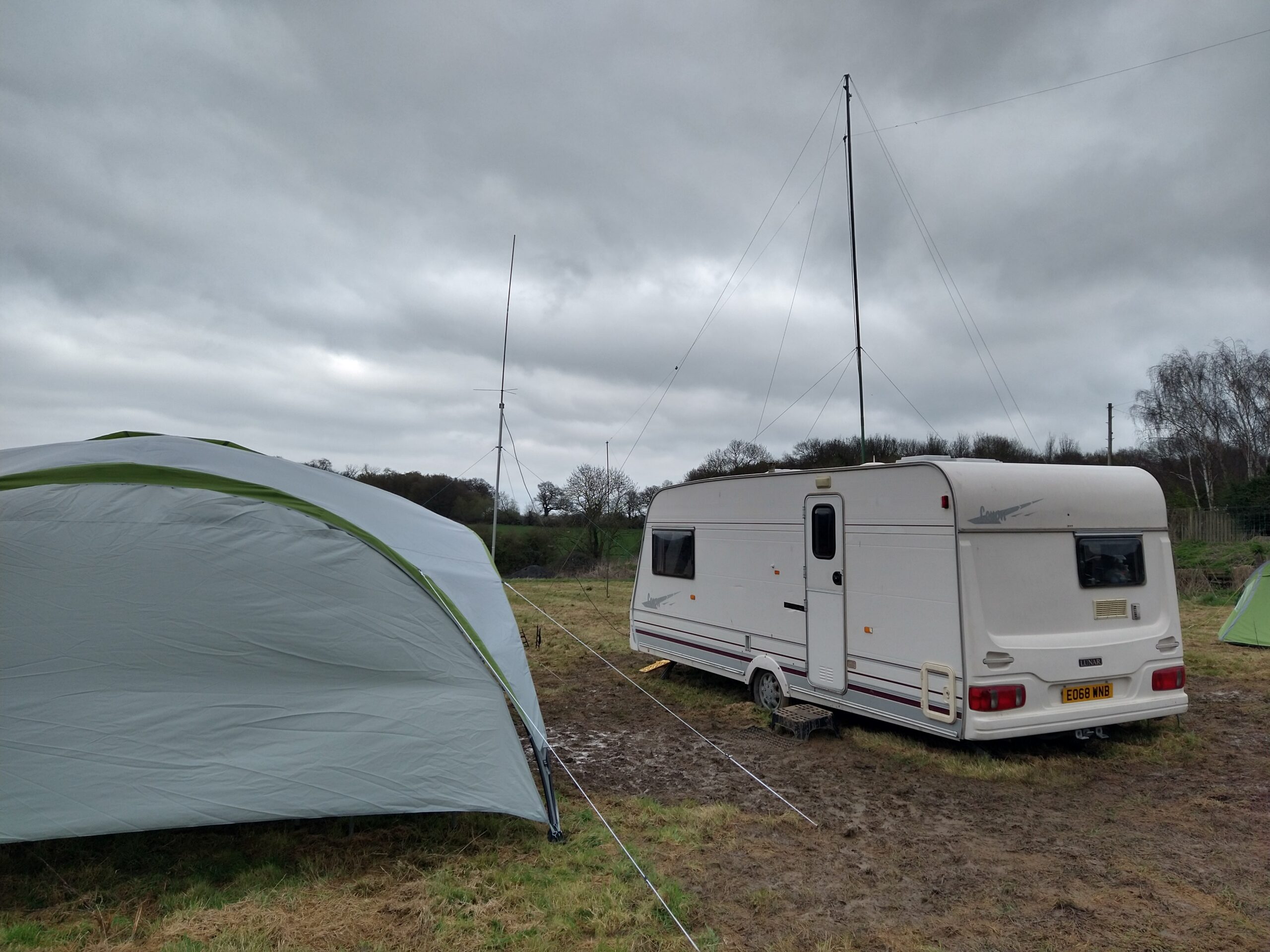 Useful links
Dave M0TAZ has also done a report for GB2STA with more photos – I borrowed the YouTube videos (above).   https://m0taz.co.uk/2023/04/mud-glorious-mud/
QRZ entry for GB2STA – more photos. https://www.qrz.com/db/gb2sta
Acknowledgements
A big thanks to Amanda and Liza for making the field available to LEFARS and to David M0VID for cutting the grass and flattening the field after we churned it up. Also to those members who supported the event, especially Kerry M6WHT our site security manager, David M0VID and Brian M0OAB for mud recovery services.
73
John G8DZH

Photo credits: John Ray G8DZH
Video credits: Dave Cutts M0TAZ