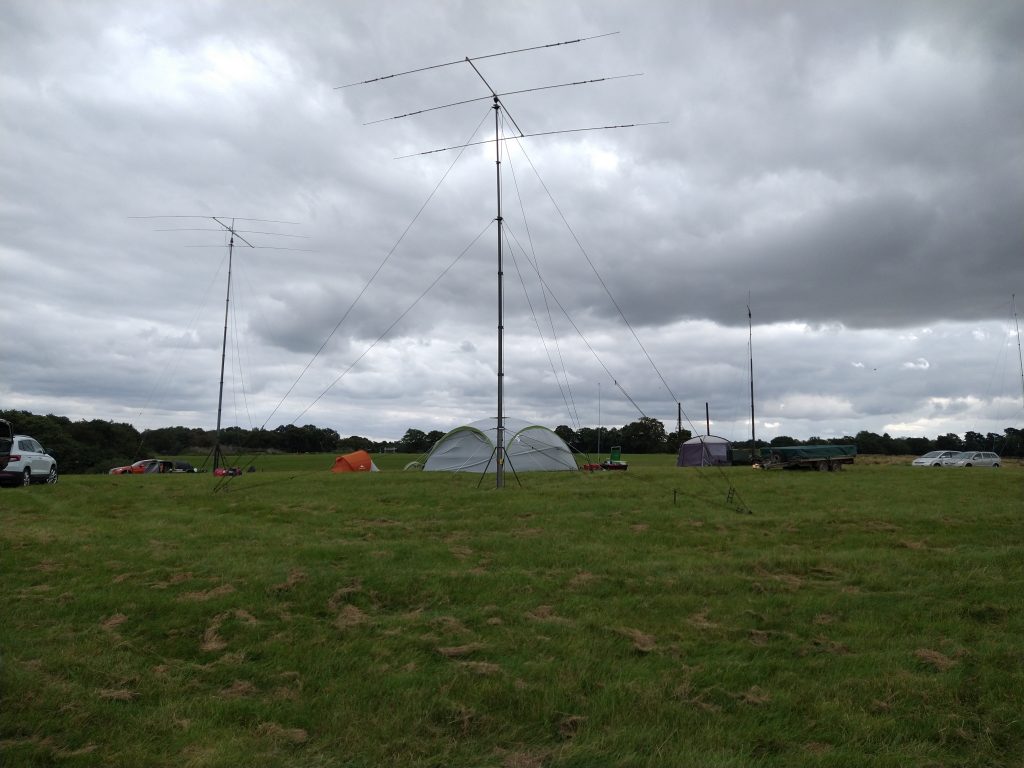 The August Bank Holiday was another chance to get out and play some radio, this time at the Secret Nuclear Bunker, Kelvedon Hatch. The event was co-organised with the Secret Nuclear Bunker Contest Group (SNBCG) as a joint weekend and sharing resources. We were perched on top of a hill rather than underground and with easy access this time on the dry track. Several stations (some QRO) operated on 80m, 60m, 40m, 20m, 17m, 6m, 4m, 2m, and  70cm.
Dave M0TAZ has done a report from the SNBCG perspective and is at https://m0taz.co.uk/2021/08/bank-holiday-radio-weekend-2/ including more photos plus details of  the 40m antenna and countries worked under the club's GB0SNB call. Club members also used their own calls over the weekend as well as operating as GB2LRS with LEFARS equipment.
Setting up started on Friday 27th August with the LEFARS equipment arriving onsite at 16:00. The new Coleman shelter, used for catering and recreation, was setup alongside the LEFARS tents and trailer mast.
LEFARS equipment included a 4m/6m yagi and 80m/40m trapped dipole. Also David M0VID brought along his 20m/15m/10m Yagi with 12m mast. A few members camped overnight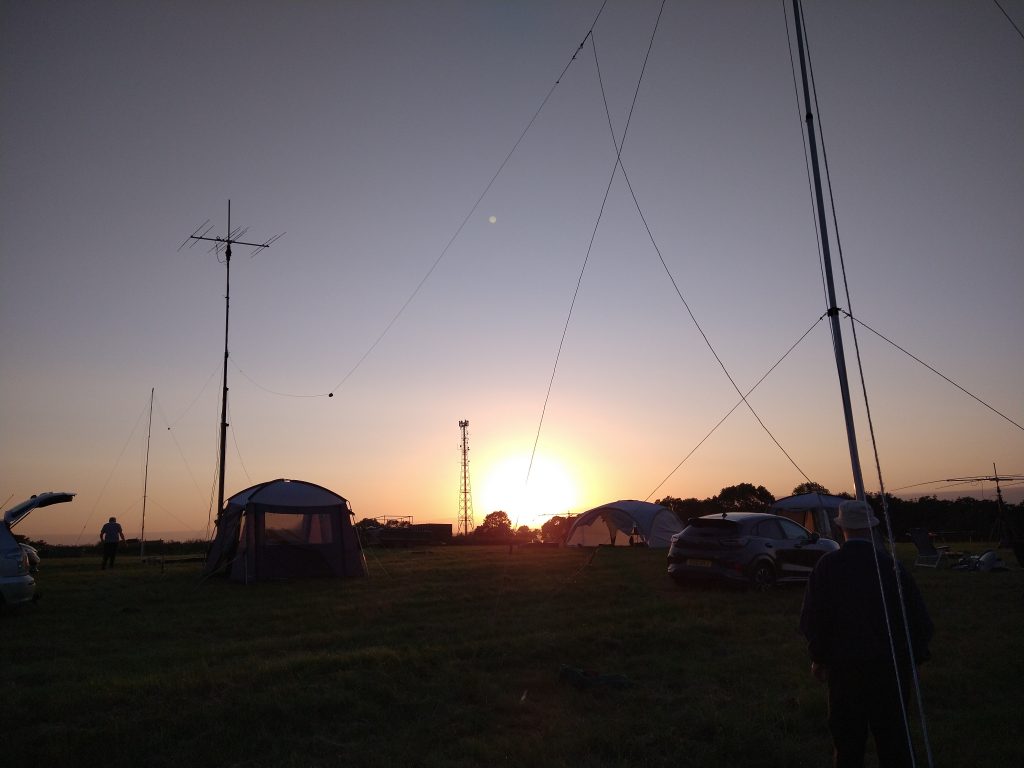 A solar flare left HF bands in a poor state although George M1GEO worked a flurry of stations from the Caribbean and the Americas on the 20m beam.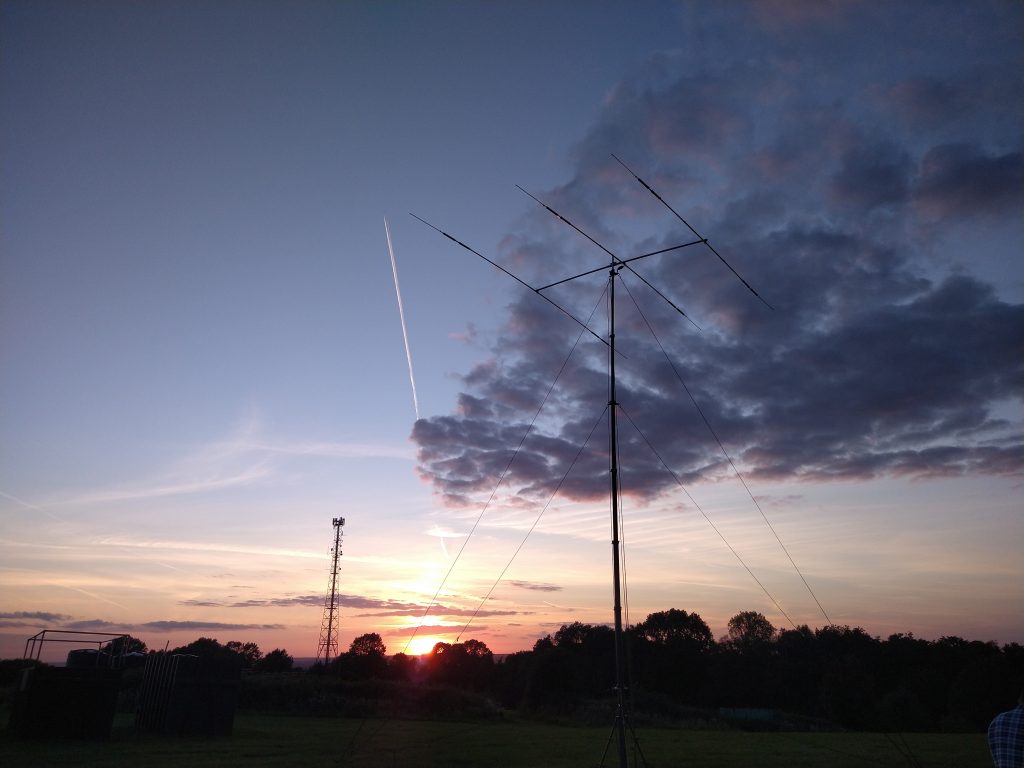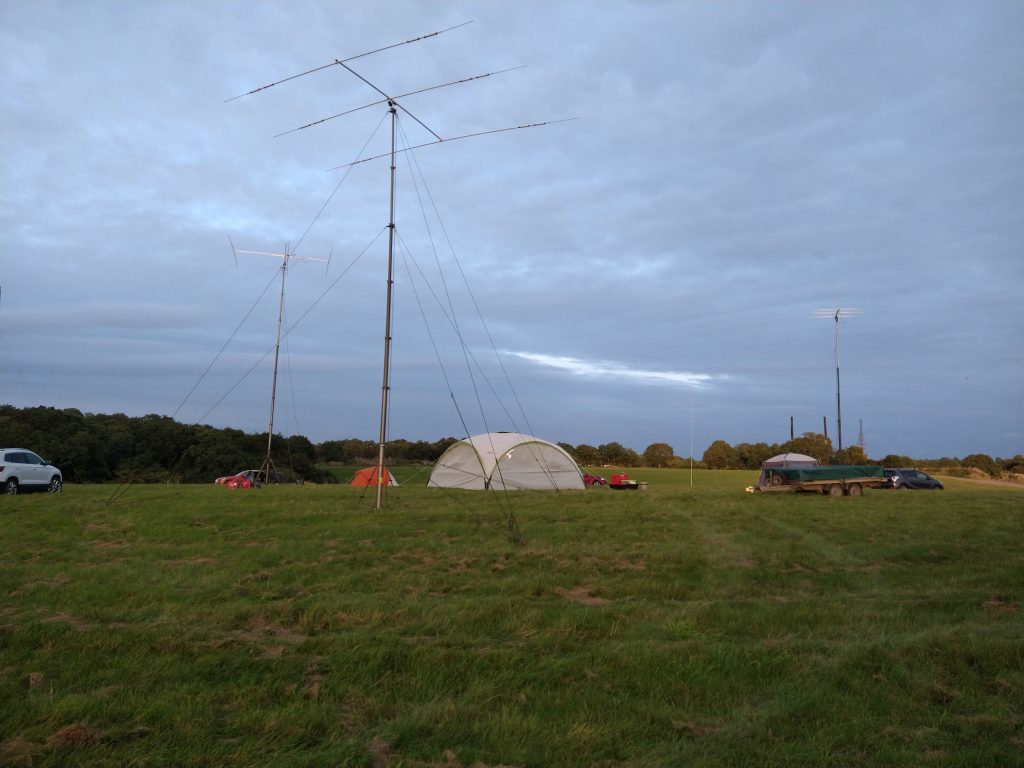 Selim M0XTA worked 91 stations on 2m  FM using the antenna on the tower under the GB0SNB callsign. Richard G4DDP tried out his end-fed 60m antenna and participated in the Sunday evening 60m National Net. Good signals for most stations.  Also  Richard  (below) used his linear for 4m and 6m. On 4m and 6m the best DX was the Czech Republic with FT8.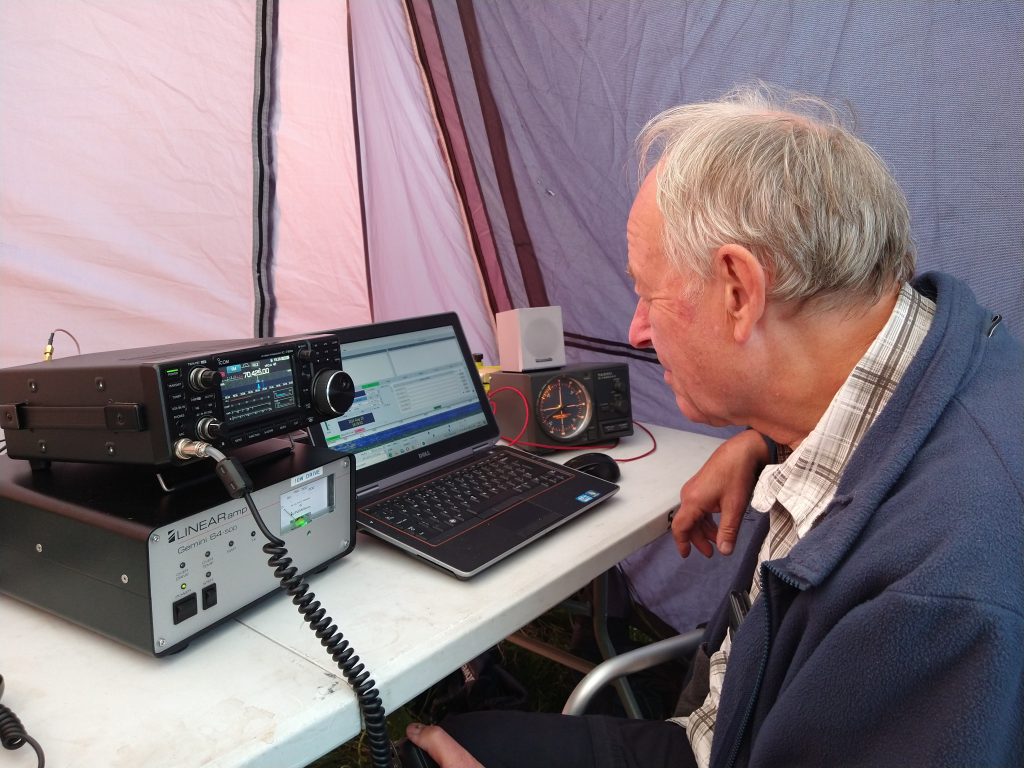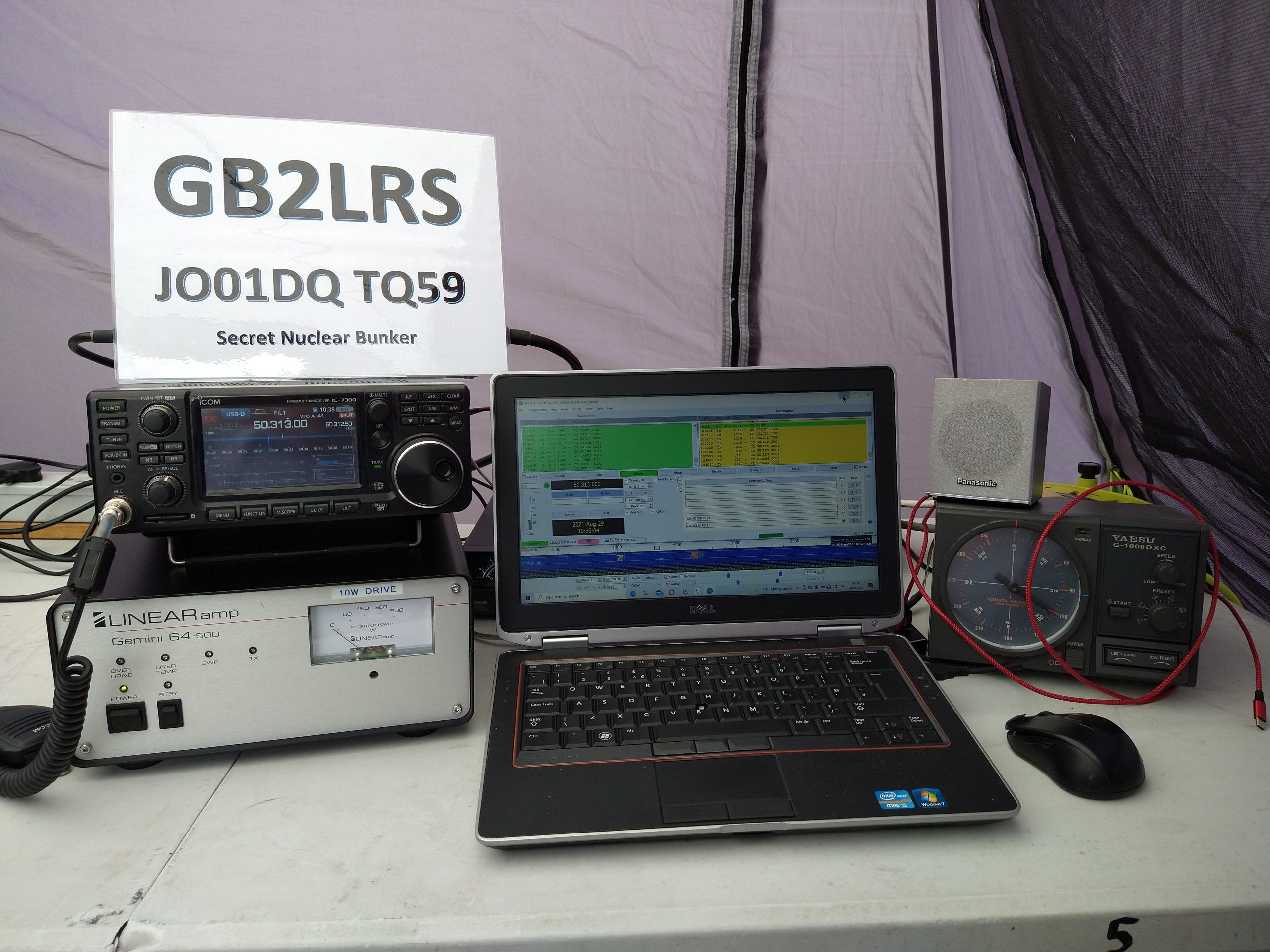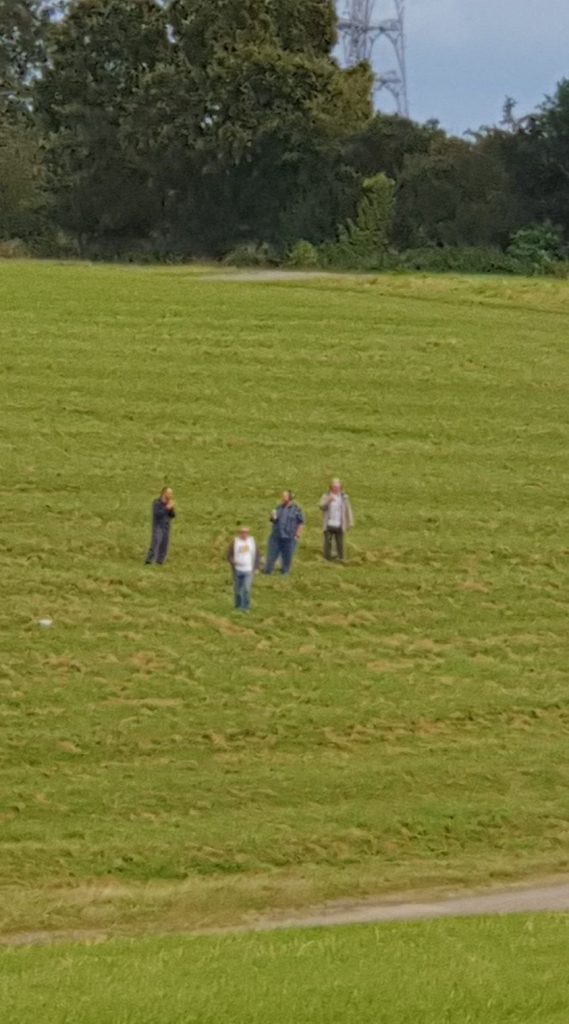 ARDF
For a 2-hour period of radio silence, members tried out ARDF on Saturday afternoon with equipment kindly loaned by the RSGB DF Committee. and made available to Affiliated Societies. Three very low power 80m transmitters, configured for 60 second transmissions in a five minute cycle, were hidden by David M0VID around the site. The transmitters had a typical range of 400m. Also provided were some PJ80 receivers, we just needed to supply our own headphones with 3.5mm stereo plug. Not everyone found all of the stations and, at times, adjacent stations were a distraction. Everyone enjoyed the event. LEFARS would like to thank the RSGB DF Committee for making the kit available. It whetted the appetite to consider DF hunts in the future as a club activity.
Mishaps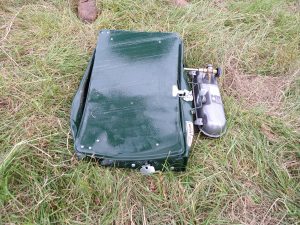 Chris G8OCV managed to drive over his petrol stove. Although mangled, it re-appeared at the Lambourne End Field weekend  in September almost as good as new.
Peter G0IAP left his tent with provisions in a cool bag. One that wasn't fully sealed. He returned next day and found a local fox had enjoyed a hearty meal :
500G butter
pack of sausages
Bacon
All but one of two packs of rolls
Shredded wheat pack
Camping entire August Bank Holiday weekend
Kerry M6WHT Brian M0OAB Boo M6OAB Chris G8OCV George M1GEO Dave M0TAZ Peter G0IAP David M0VID
Onsite Friday
As above plus
Richard G4DDP John G0VEH John G8DZH Selim M0XTA Brian G4CUQ
Saturday
As for Friday plus Martin 2E0UKL Dave M0YOL
Sunday
As for Friday plus Selim M0XTA Brian G4CUQ
[to be continued….]
73
73
John Ray G8DZH
Email: pro@lefars.org.uk
[Photo Credit:  John G8DZH, Richard G4DDP]