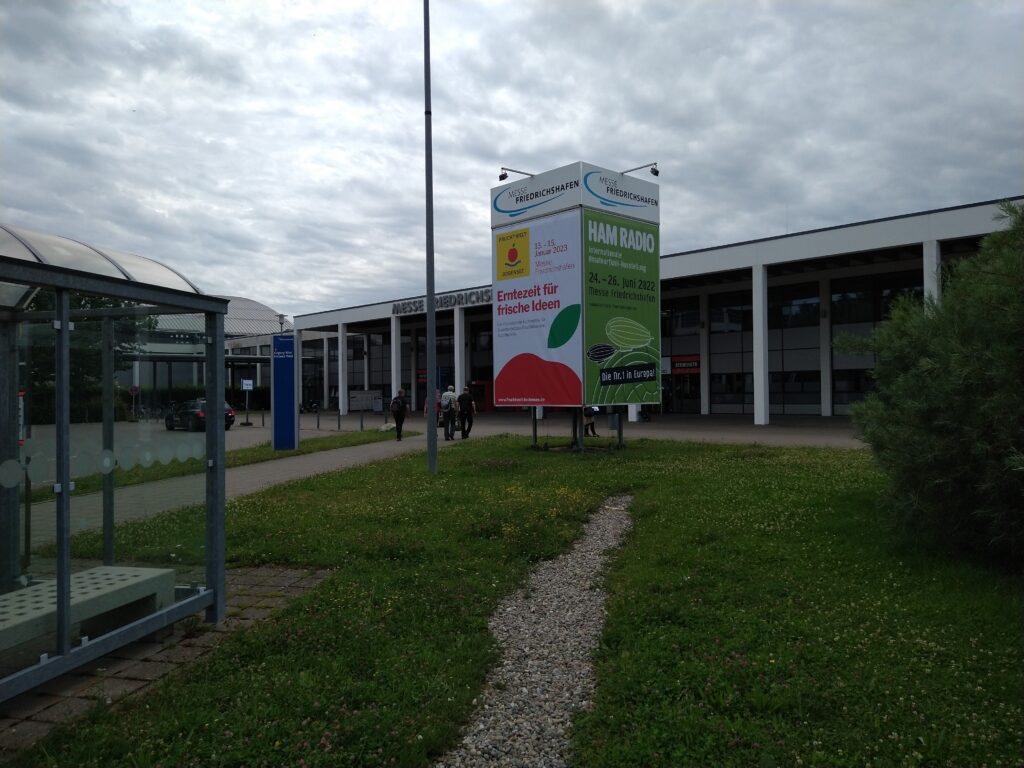 My  last visit to the Ham Radio Show in Friedrichshafen, Germany was in 2018. With COVID-19, it has taken three years to re-open and Ham Radio 2022 was held on the last weekend in June.  The modern exhibition centre (Messe) is next to an airport and three miles from Friedrichshafen and Lake Constance. This is the biggest Hamvention in Europe.
How we got there / hotels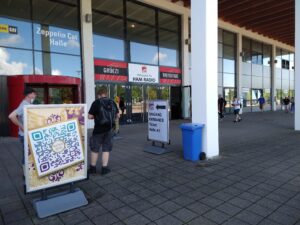 Planning started back in October 2021 with booking of flights. Myself, John G0VEH, Richard G4DDP and Dave G3VGR coordinated hotel booking, with a bit of overlap to be in and around Lindau, our preferred location. Not at the same hotels though. Dave G3VGR was in Wasserburg. There's plenty of hotel rooms in the area at varying prices and also Airbnb (not always so conveniently located).
Other LEFARians also attended HamRadio 2022 – George M1GEO and Chris G8OCV via EV vehicle and Eurotunnel.
Plane and Train.  There is an airport at Friedrichshafen (FHN) but no direct flights from the UK. Alternatives include Memmingham, Munich and Zurich. For me a return flight London City (LCY) airport  <> Zurich (ZRH) airport with BA is the most convenient.  Myself and John G0VEH chose the first day of national train strikes. The train from Zurich to Lindau was via Austria.  DB (German rail) had a special €9 a month ticket for June for travel by regional rail and bus throughout Germany. This was used for trains and and the bus to the Messe (exhibition halls). DB were  strict on wearing FFP2 / KN95 only masks on public transport.  No requirement to show COVID passes.
The ECHT Bodensee card also gives free travel over a wide area [map above] including the Lindau bus system. Issued by the hotel, a €3.30 daily tax is added to the bill.
By Car. George M1GEO and Chris G8OCV drove from Cambridge/Norfolk.  Tesla EV. Eurotunnel. 1400 miles. 2.5 charges each way (outgoing Metz & Strasbourg, return Metz & Arlon).  133 Euros total electric. The  outgoing Eurotunnel fare was £148 Folkestone to Calais, £97 return.
From Romanshorn, Switzerland there is a frequent ferry across Lake Constance for car and foot passengers.
The show
Smaller attendance than last year.  10,200 attended over the three days and from 52 countries.  It was 14,200 in 2018, about a 30% decrease. Before the official numbers were announced, it was obvious that less hams were visiting and the free transport from Friedrichshafen Stadt and harbour was rarely full.
The Messe has five  large 10,000 square metre exhibition halls, three were used.  The main exhibition hall (A1) and two flea market halls, A3 and A4. However not all of the space was utilised.  There was also the lecture streams and SDR Academy in the A2 area, The open centre area (below) contains a Bavarian style pub, food franchises and beer outlets for refreshments and meeting up.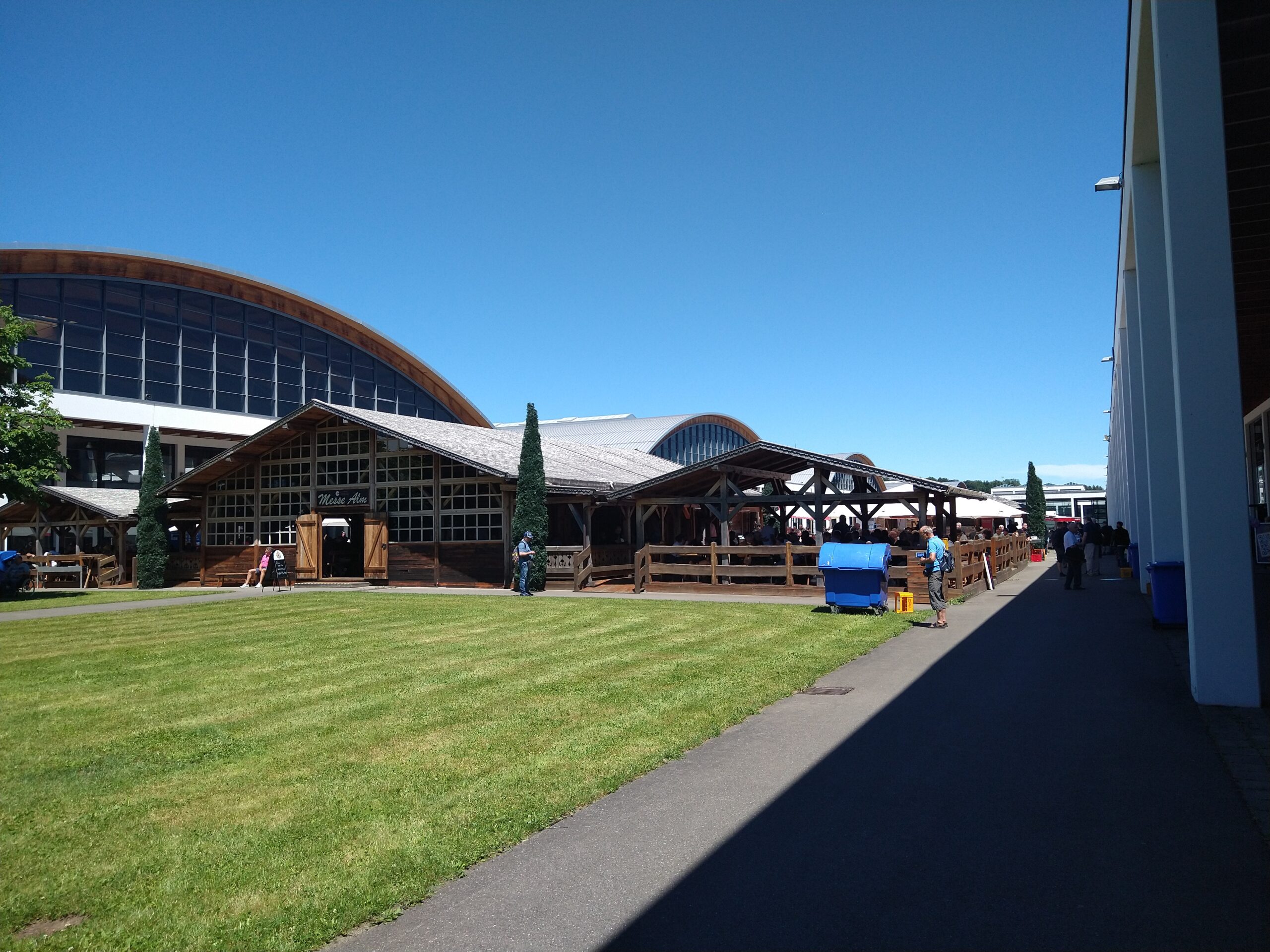 The front entrance area hosted several talks.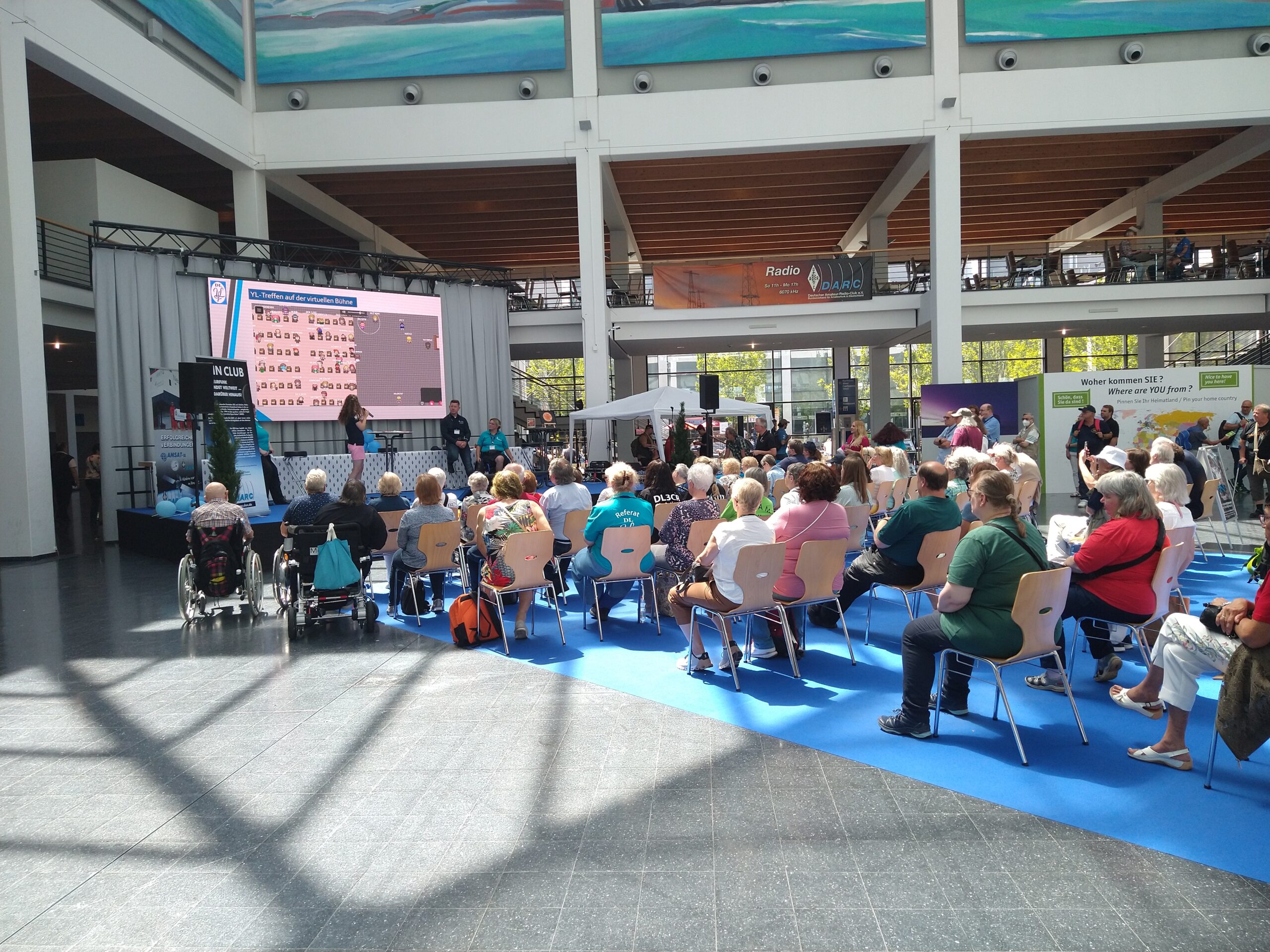 Main Hall (A1)
The main exhibition hall was reorganised from the last show in 2018. About one third of A1  wasn't used, another third for clubs and national societies and the remaining third for commercial traders.
The clubs and societies area seemed busy although a few less Italian clubs this year.  RSGB, ARRL, VERON, RAI, TRAC, Swiss Radio Society, The Qatar Amateur Radio Society etc. all had stands as well as the multiple stands of the host DARC society.

The Black Sheep Pub Group, a group of Italian amateurs based in in the UK, Italy and elsewhere have own BM DMR talkgroup and digital gateway. Richard G4DDP and Dave G3VGR spent some time at their stand sampling a specially produced wine bottled for the show (left). Also there was a section for European DX Clubs including CDXC, Bavarian Contest Group and IOTA. D.I.G. were not allowed to bring their customary barrel(s) of beer for Sunday afternoon imbibing.
A few QO-100 modules and sub-systems were on on sale. The remainder of Hall A1 housed dealers selling knifes and surgical tools, PC components, antennas, radio accessories, morse keys etc.  More room however for rest and meet-n-greet areas than in previous years. Some radios on sale, from non-German dealers. No Wimo this year. There were less corporate manufacturer stands with Icom only, no Kenwood or Yaesu, Elecraft displayed their full range of kit with their German distributer and Luso had a small tower base. Hilberling were showing their transceiver range.  Several SDR radios were seen (photos below).
Icom did have one new radio on display, The SHF-P1 2.4 GHz / 5.6 GHz concept radio using a IC-705 based controller and separate RF Module (below).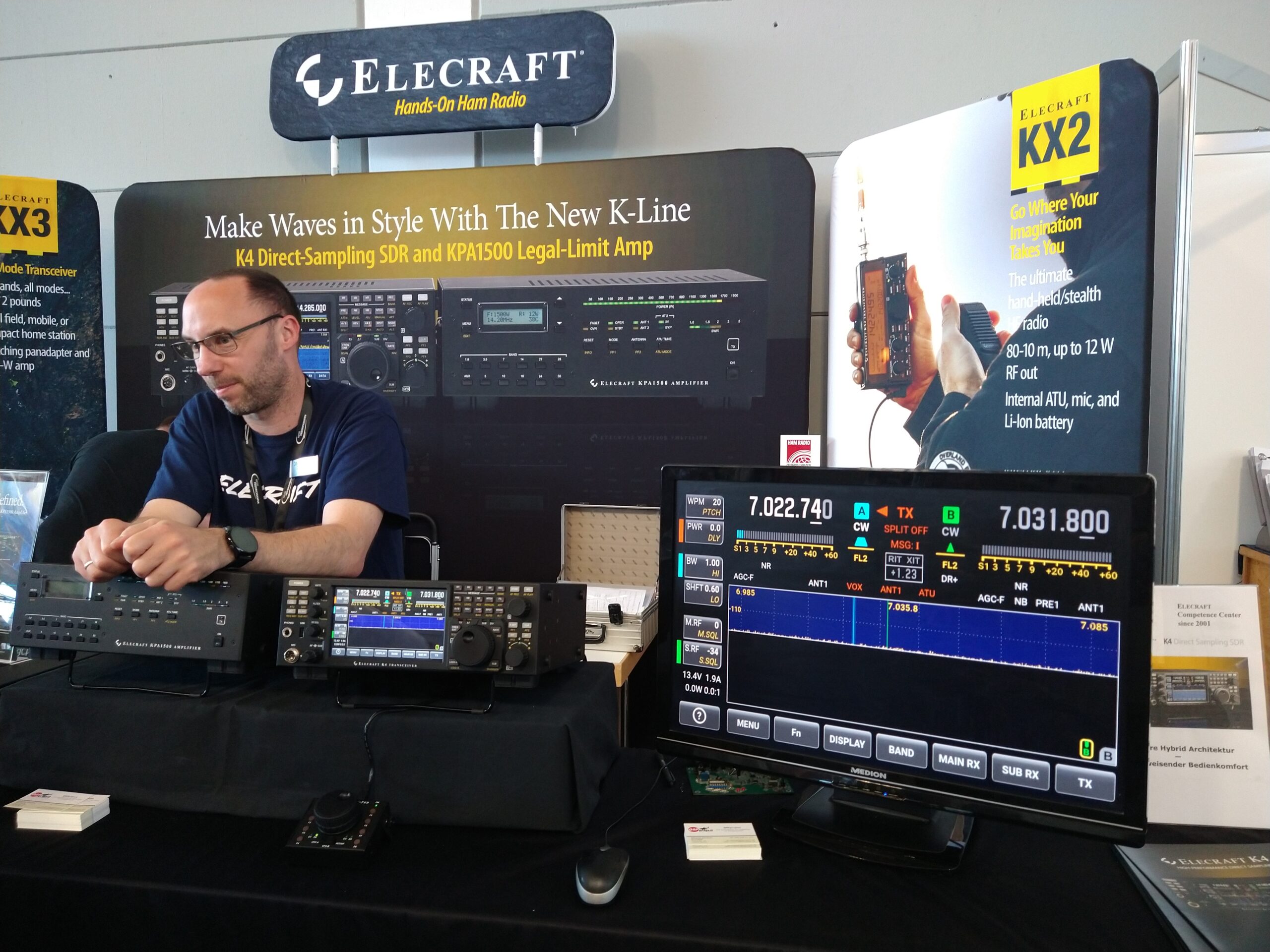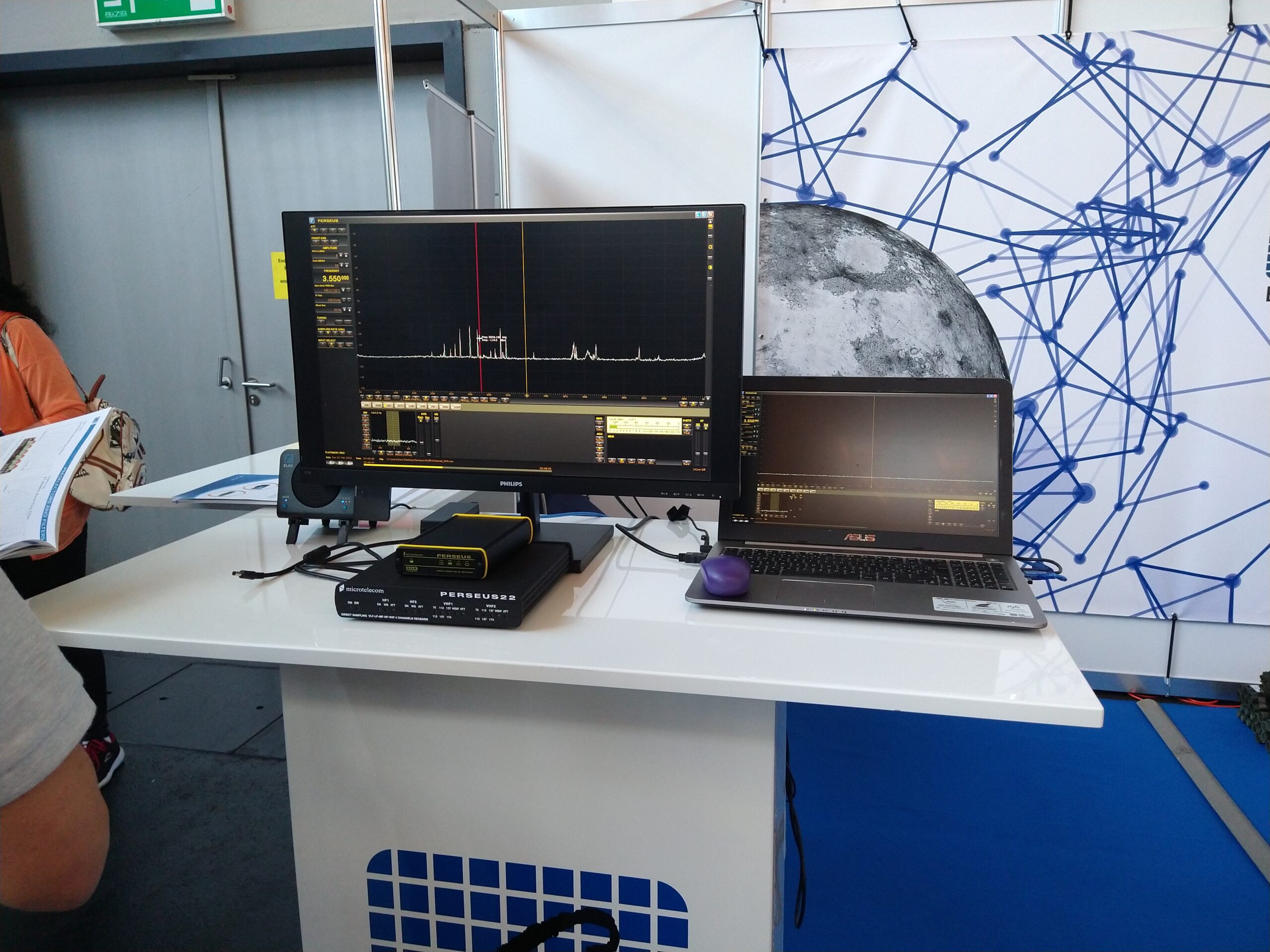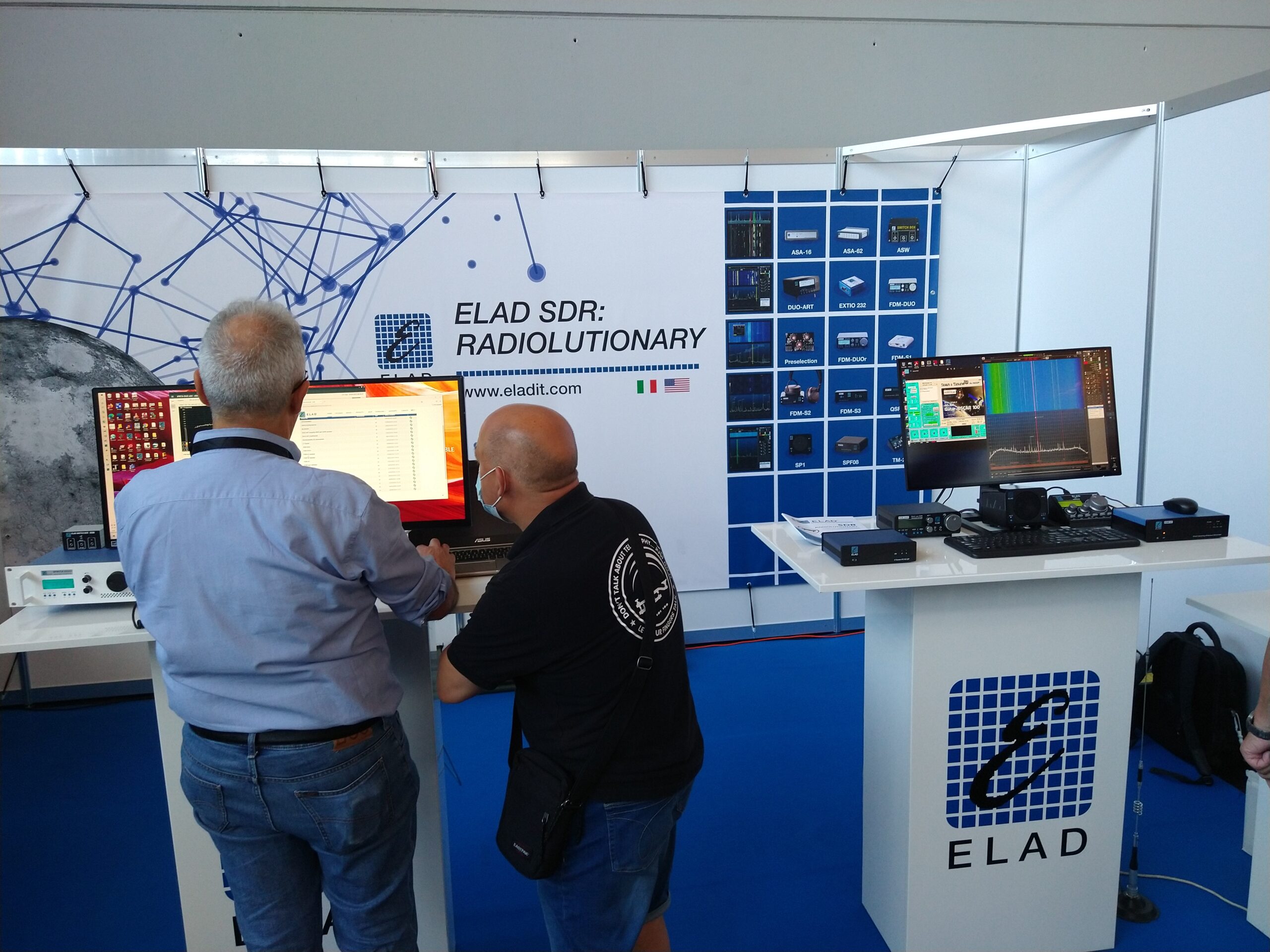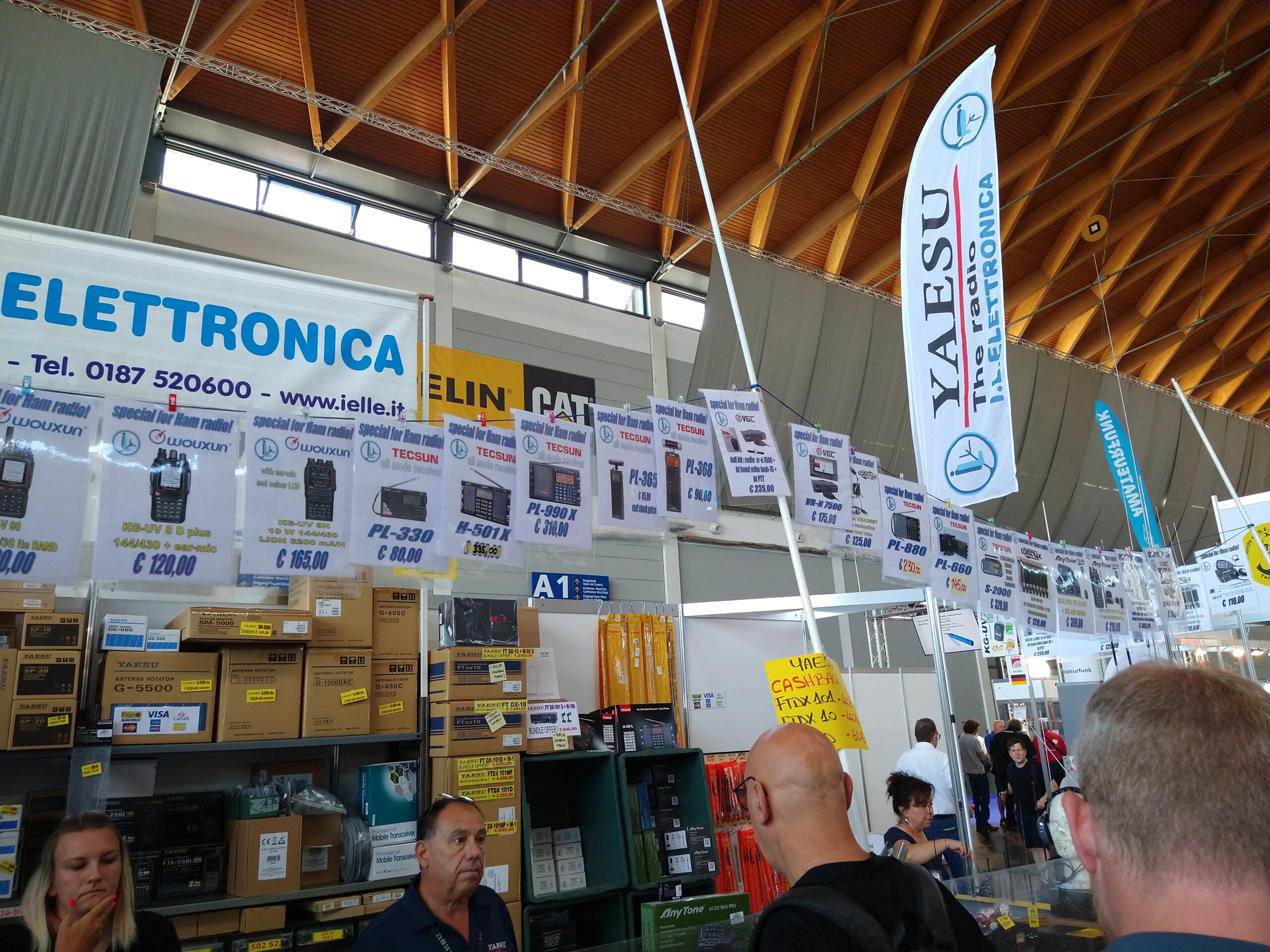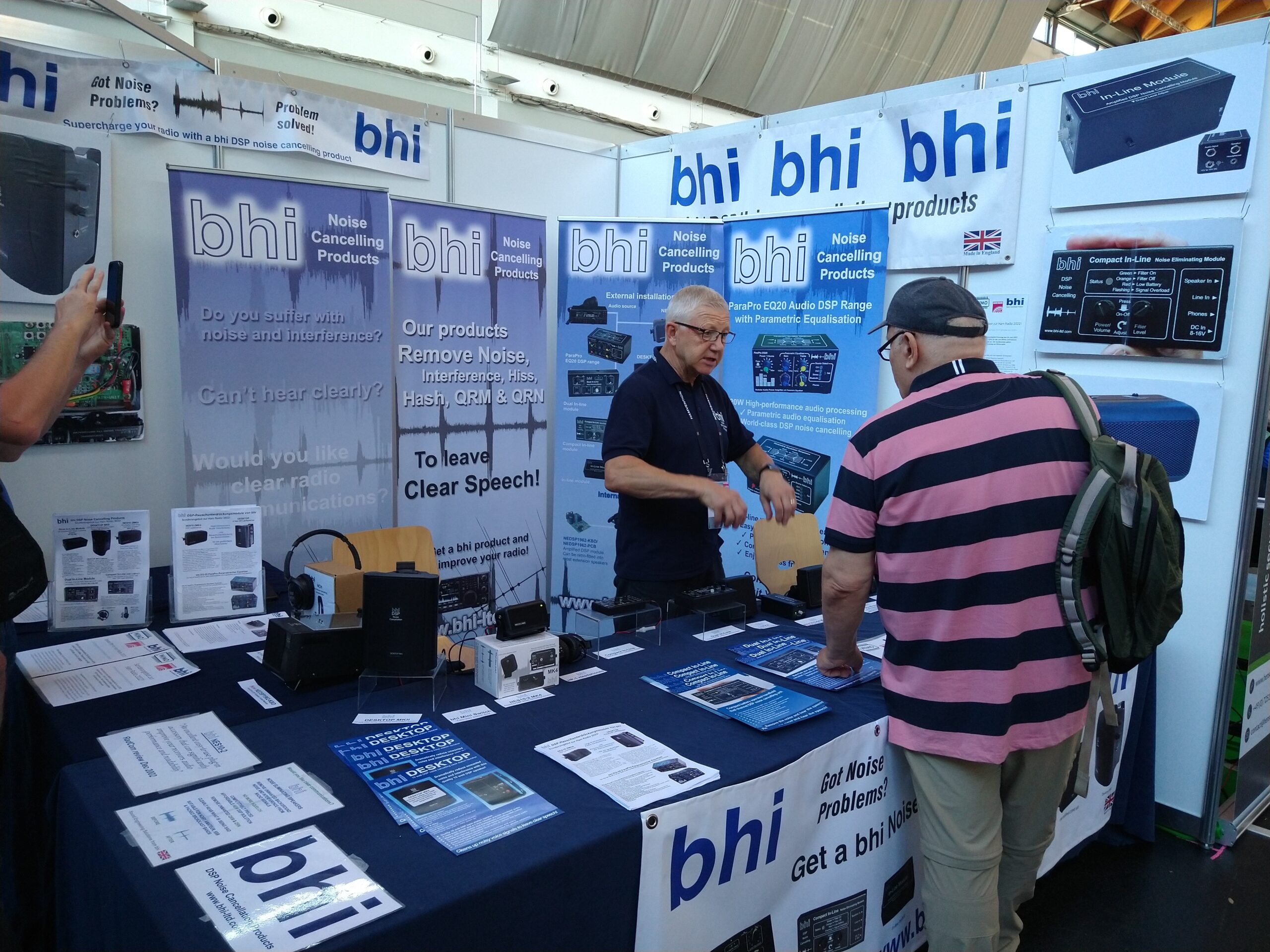 Lecture Stream  Area A2
Saturday had the SDR Academy with a full day of lectures.  There was a reduced number of talks in two lecture streams, less than in previous years.
Flea market halls A3 and A4
The flea market halls A3 and A4 used about 70% of their capacity. Tables seemed to be spaced further apart but 265 exhibitors from 27 countries attended. Although busy, it was never crowded. If you need some esoteric hard-to-find item, this is the place to find it.  Lots of components.  Not that much computer stuff. Benches laden with test equipment, George M1GEO bought a Marconi 2955 test set.
There was a lack of Russian traders and visitors, no surprise really.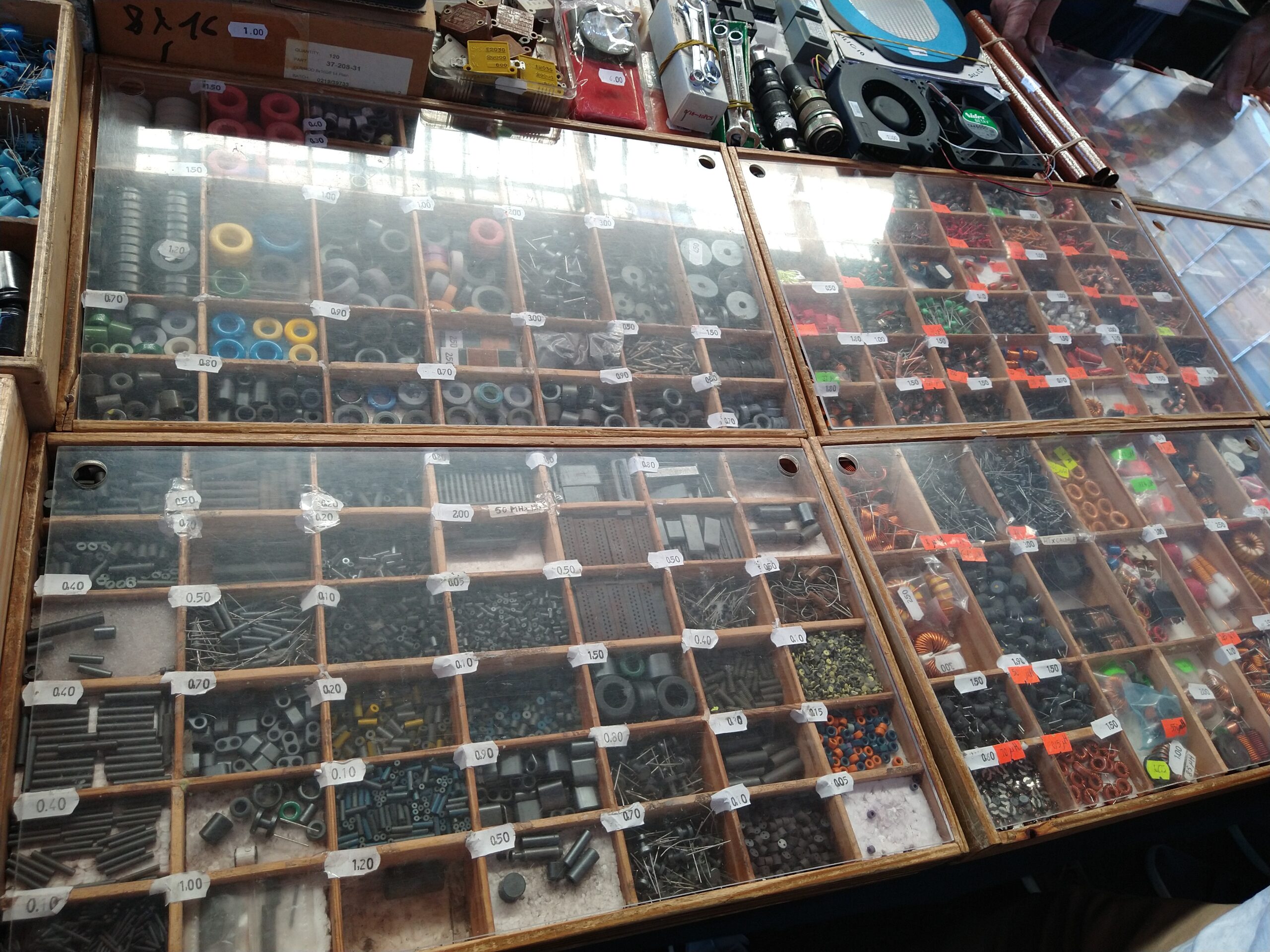 Food and Drink at the Show
It was busy in the middle. Bavarian food ordered by number (listed in four languages) and collected with ticket. Beer prices were reasonable.  It rained on Friday and the seats were wet.  Sunny on Saturday though. Also plenty of cafes and restaurants inside.
Hamradio 2022 Summary
We visited this year for two days only and skipped Sunday.  Although there were fewer traders and flea market stands, this was more than made up for by visiting hams socialising, not just at the show but at other venues in Friedrichshafen.  COVID-19 has put a dent in the attendance numbers from traders and visitors.  Hopefully this will improve.
A note for your diaries. Hamradio 2023 will once again be held on 23-25 June 2023.
Heavy showers and violent storms during the week, temperatures ranged from 21C to 26C.  I came back with COVID-19 🙁
After the show…
We visited the Eis Café for a large ice cream. (no pictures to protect the guilty). A boat ride back to Lindau gave another chance to look at the picturesque scenery that is the shoreline of Lake Constance and with the view of the Swiss mountains.
 Cultural visits to Bavarian breweries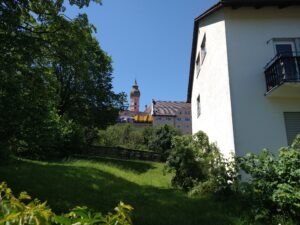 Using the €9 DB Special ticket, we made a visit to the Andechs Brewery and Holy Mountain (Kloster Andechs) on Wednesday, a day before the show.  A two train and a bus journey from Lindau. A good afternoon sampling Andech's finest brews. Unfortunately, we missed the optimum bus on the return journey (18:04) and I got back at just before midnight. Train times weren't always on time.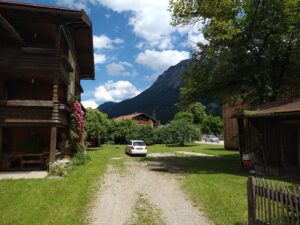 On Sunday 26th, rather than visit the Hamradio show, some of us went on another train ride to Oberstdorf. The base of the Nebelhorn and on the German/Austrian border. The site of a small brewery Dave G3VGR wanted to re-visit. As it was Sunday, most of the shops were closed. Excellent food and beers.
73
John Ray G8DZH
Email: g8dzh@lefars.org.uk
[Photo Credits:  John G8DZH, George M1GEO, John G0VEH]